Why should you go for corner pergola in 2023?
If you're looking to add a new outdoor living space to your yard, a corner pergola might just be the perfect solution. Not only does it provide shade and privacy, but it also creates a visually stunning focal point in any backyard. In this blog, we'll explore some pergola ideas and explain why a pergola with a roof might be the best option for your space.
Benefits of corner pergola
Firstly, let's talk about the benefits of a corner pergola. A pergola corner can be used to define an outdoor living area, such as a dining space or a seating area. It can also be used to provide privacy, making it the perfect spot for a cozy retreat. And of course, a pergola provides shade, making it a great spot to relax and unwind on a hot summer day.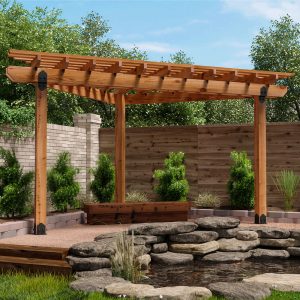 When it comes to choosing the right corner pergola, there are a few things to consider. While wooden pergolas are a classic choice due to their natural and timeless aesthetic that can complement any backyard style, there are also cheaper alternatives. Another important consideration is the size and shape of your pergola. You want to make sure it fits seamlessly into your backyard and doesn't overpower the space.
If you're looking for a corner pergola with a roof, you're in luck. A roof provides additional shade and protection from the elements, making it possible to enjoy your outdoor living space even on rainy days. A  pergola with a roof can also provide a sense of enclosure, making it feel like a separate outdoor room.
When it comes to privacy corner pergolas, there are a few different options to consider. One popular choice is to add curtains or drapes to the pergola, which can be drawn closed for added privacy. Another option is to add a trellis or lattice to one or more sides of the pergola, creating a barrier that still allows for plenty of airflow.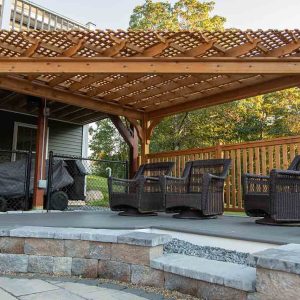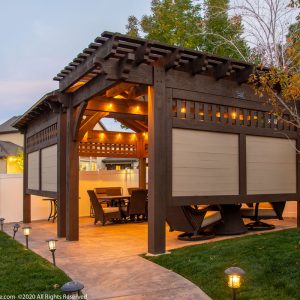 So, what are some corner pergola ideas that you might want to consider for your own backyard? One option is to create a cozy seating area by adding a few comfortable chairs and a small table. Another idea is to turn your pergola into an outdoor dining space, complete with a table and chairs for al fresco meals. You could also add some potted plants or hanging baskets to your pergola for added visual interest.
In conclusion, a corner pergola is a versatile and attractive addition to any backyard. Whether you opt for a wooden pergola or something more modern, a pergola with a roof can provide shade, privacy, and a sense of enclosure. With a little creativity and some careful planning, you can create the perfect outdoor living space for your family to enjoy.