Why Build a Carport with Storage
Sufficient storage space is essential in all households. In addition to the shelves and cabinets inside the house, you also need a separate area for keeping larger or seasonal items that are not always in use. Traditionally, the garage is used for this purpose but lately, many homeowners are choosing instead to go for a wood carport with storage, and for many excellent reasons as you would see in this article.
Garage versus Carport with Storage Room: Which Is Better?
As each household's needs are unique, we can't really say that a carport storage is always the best choice. But there is also no denying that it has several advantages over a typical garage in many aspects. Let's take a close look at the differences between the two so that you can make the right decision as to which is the best for your home.
Energy Efficiency
In cold climates, heat loss in the house is something to be particularly concerned about. A garage with less than perfect wall insulation can get extremely cold in the winter and will incur as much as 23,000 Btu/hr of heat loss from the house, which will eat up more energy. On the other hand, this is not a problem at all with a carport as it does not take heat from the home, being a completely separate structure.
Cost
A carport has an open structure whereas a garage is a complete enclosure so obviously, a carport, even with a storage room included, would be much cheaper to install. On average, a 2-car carport with storage would set you back around $8,000 while a garage of the same dimensions might cost upwards of $30,000.
Ease of Installation
Again, the design of a carport makes it the better choice if you are looking for something that's easy to build. There usually is no need for any special tools or equipment and most of the time, you won't even need to secure a building permit. If you purchase a carport kit, this would come with pre-cut wood so all you really have to do is put the pieces together and you can be done within a day.
Ventilation
Hot summers can pose just as big a problem as cold winters when it comes to a garage. Again, this will result in huge energy bills as your air conditioning units need to work harder to maintain a comfortable temperature in the house. Also, the heat and lack of ventilation might cause damage to the items that you have stowed away in the garage. A carport storage does not cause these problems because the air always flows freely in the space.
Space Management
Most garages have plenty of cabinets and shelves along all the walls. This certainly sounds like a good thing but the truth is that most of the storage space in a garage is left unused. Ultimately, it becomes wasted space that could have been put to better use. Meanwhile, a carport storage can easily be custom-made to the size that you actually need.
Lifespan
It cannot be denied that a well-constructed garage will likely outlive a carport, simply because of the nature of the structure. This is not to say that a carport will not last. If you give it proper maintenance, there is no reason why a good carport won't last for several years.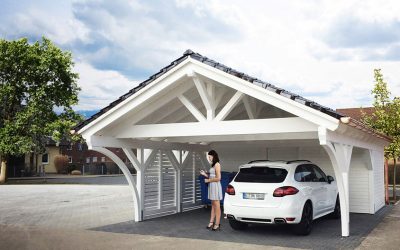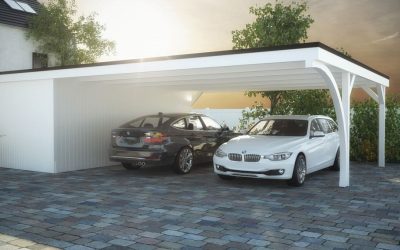 Practical and Creative Carport Storage Ideas
Just because they are a low-cost alternative to a garage doesn't mean they can't be beautiful. In fact, there are now several carports that do not only look nice but actually elevate the overall appeal of the property. If you are trying to think of ways to spruce up the look of your carport, these modern carport storage ideas might give you some inspiration.
Decorative Flooring
With the open structure of the carport, the flooring will always be on display. Instead of showcasing utterly boring concrete, give people something to admire by installing some decorative tiles.
Vertical Storage
You can add considerable storage space in a carport without taking up too much floor space. How? Construct a wall along one side of the carport and cover it with an assortment of shelves, drawers, pegboards, hooks, and so on. Keep less frequently used items on the upper shelves and reserve the lower storage for oft used things for convenience.
Living Wall
Liven up your carport by putting up a wall with plants all over it. A living wall will instantly beautify your otherwise plain structure, while also providing shade and keeping the area cool. It's also a wonderful solution to create a garden if you have limited yard space.
Vivid Colors
You can never go wrong with the look of natural wood but if you want to make your carport with storage really stand out, the easiest way is to paint it over with bright colors or finish it with elegant varnish.
Solar Panel Roofing
This is quite a substantial investment but one that will definitely pay off over time. The roof of a carport is spacious enough to contain enough solar panels to generate a significant amount of energy for your household. If you have an electric vehicle, you can recharge it right there in the carport using solar energy without adding to your energy bill.
A carport with storage is a relatively simple build, but it is still something that requires careful planning and preparation. If you are not sure as to which kind of carport with a storage room would work best for your home, it is best to get advice from an expert. Our consultants here at Statek Wood can help you make the right decision.
With the large variety of carport plans with storage available in different sizes and designs, it can be difficult to take a pick. But whether you need a single-car or 2-car carport with storage, or if you want a fully customized space to perfectly match your needs, a trusted carport manufacturer can do it for you without a problem.
Our precise craftmanship has been achieved through 10 years of experience in prefabricated house production.
We manufacture carports only from high-quality calibrated and strength-graded C24 wood. 
Every carport & pergola is designed with care, competence, experience and impeccable quality.
We offer to consult, provide a variety of choices to choose from, and work toward their approval.